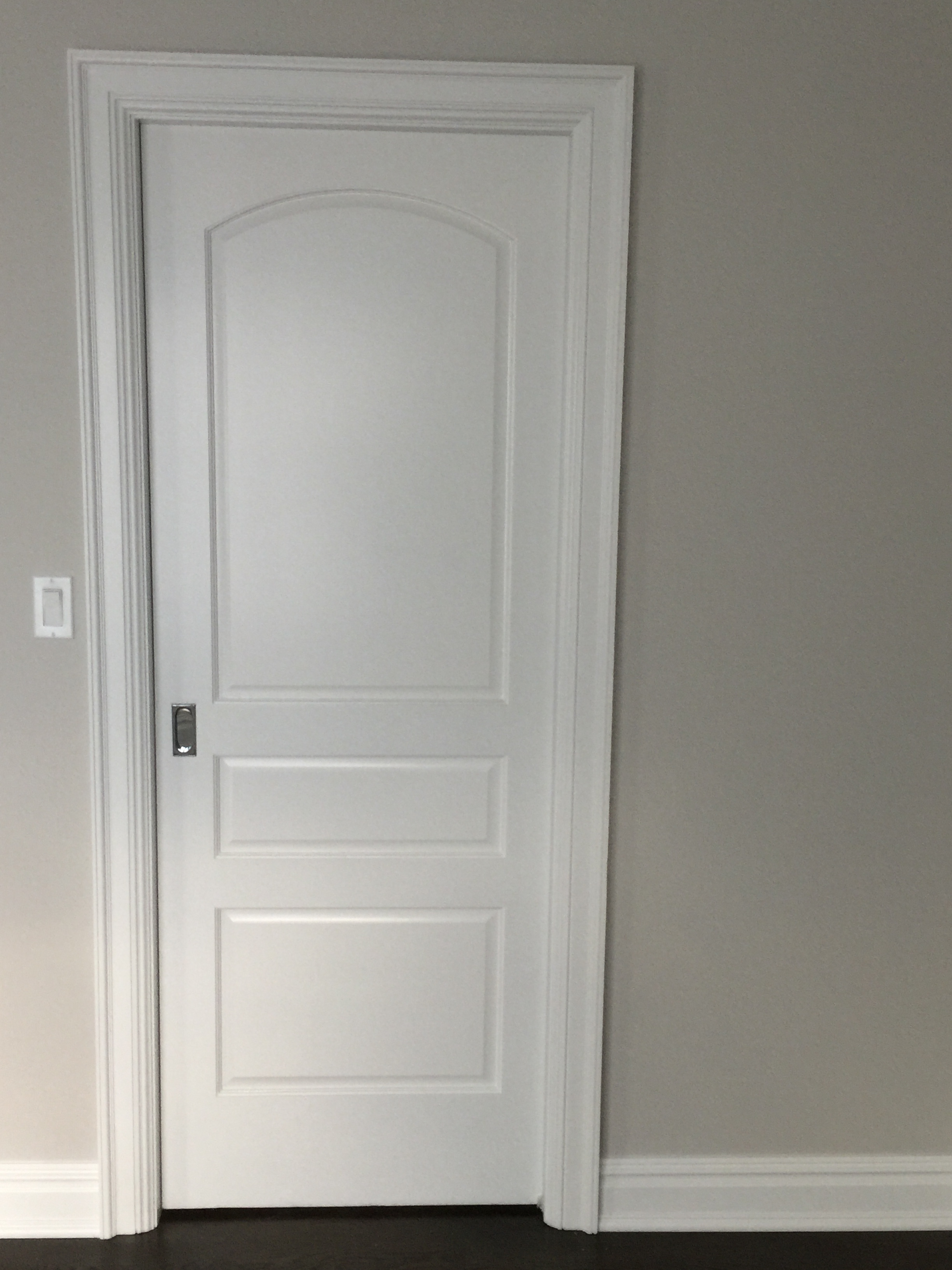 At Craftsman Contracting, we specialize in fine carpentry, including interior door installation, throughout Fairfield County, CT.  There are several factors to consider when having the interior doors in your home replaced.  Before starting your home remodeling project, here are a few things you should discuss with your home improvement contractor.
Pre-hung, or slab only?  If you are remodeling your home, you probably have doors in place already.  These doors likely have a door jamb and door casing around the door.  If you are happy with the way the jamb and casing look, you can keep them, and replace only the door slab.  There are a few advantages to this approach.  For one, it is less expensive then replacing the entire door.  Secondly, there is much less dust, as well as less chance of doing damage to the walls next to the door.  The disadvantages, however, are that this method does nothing to fix any out of level or out of plumb openings.  While a properly installed door will be scribed to fit the opening, leaving you with a consistent reveal between the door and jamb, it is not necessarily going to be plumb or level.  Also, while your doors will be brand new, everything around it will be old, and may look even worse next to your clean, new doors.
The alternative to replacing just the door slab is to replace the entire door with a pre-hung unit.  These doors come pre-attached to the jamb.  Any existing jambs and moldings around the door must be removed.  The advantages to this approach are that, when properly installed, your new door will be plumb, level and square.  Also, all the moldings and jamb around the door will be brand new.  Disadvantages to this method are: Cost.  Additional labor goes into removing the old, added labor to install the new trim, as well as the added cost of the new moldings.  Also, the removal of the existing doors can sometimes damage the paint next to the old trim.  Touch-up paint comes in handy here, but there is another way we always recommend to our clients replacing their doors.  That is to increase the size of your door casing.  Not only is this a great time to increase the value and style of your homes interior décor, choosing a wider casing will cover any spots where casing the same size as the old, which may have been out of level and plumb, do not cover.
Now that we've decided on either a slab or a pre-hung, and selected our new moldings, we can start talking about hardware.  Many people select their hardware as an afterthought to the process.  And they usually pick up some hardware at the local big box store.  While these stores may have some decent quality offerings, we always recommend for our clients to spend a little extra and purchase all brass hardware, such as from Baldwin or, as pictured below, Omnia.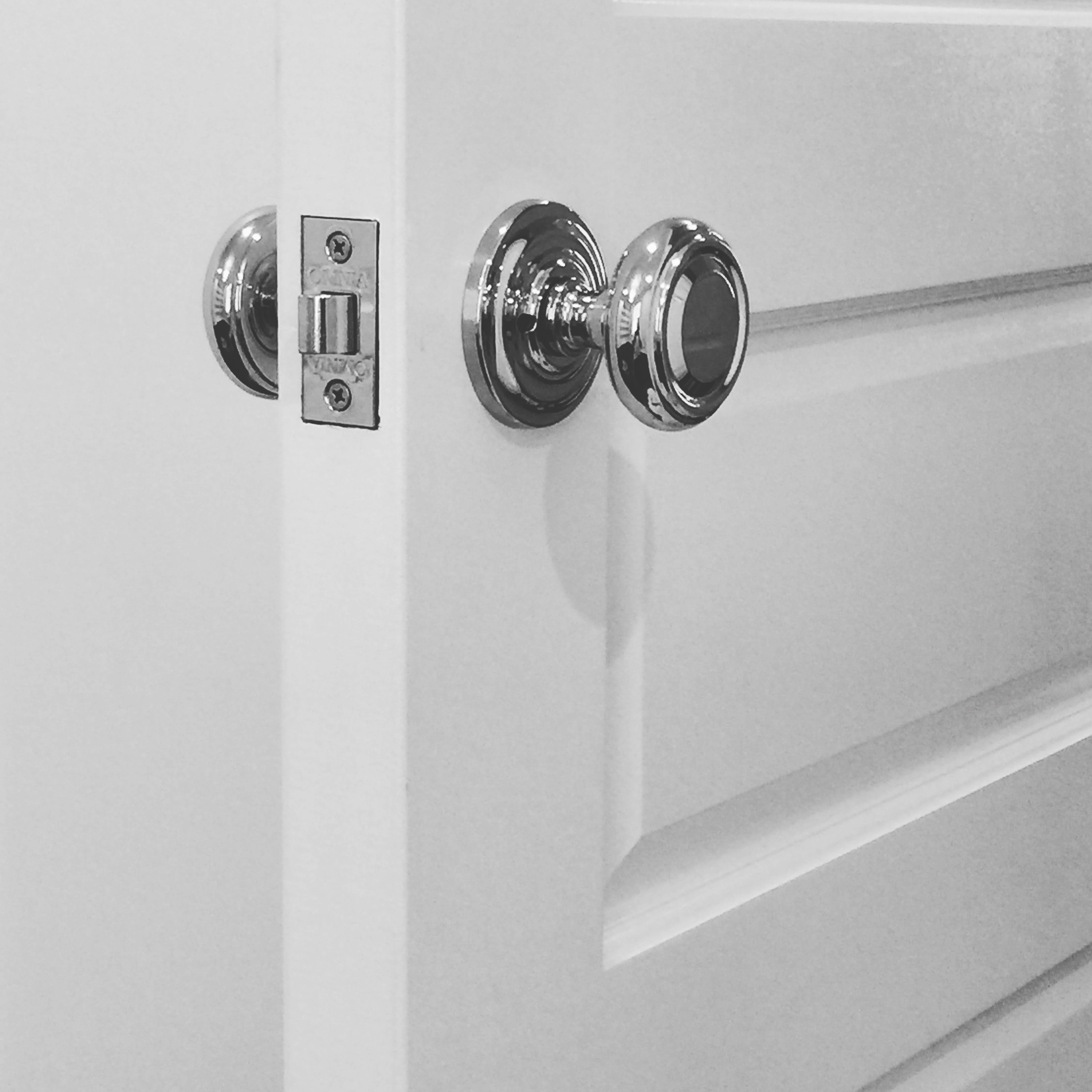 While many contractors won't give much care or consideration as to who and how the hardware is installed, we always have a skilled worker who has been properly trained perform this operation.  As simple as it may seem, it's actually quite easy to mess up!  The use of a few specialty tools, such as this self-centering drill bit and corner chisel pictured below, will aid tremendously in making sure the installation goes smoothly.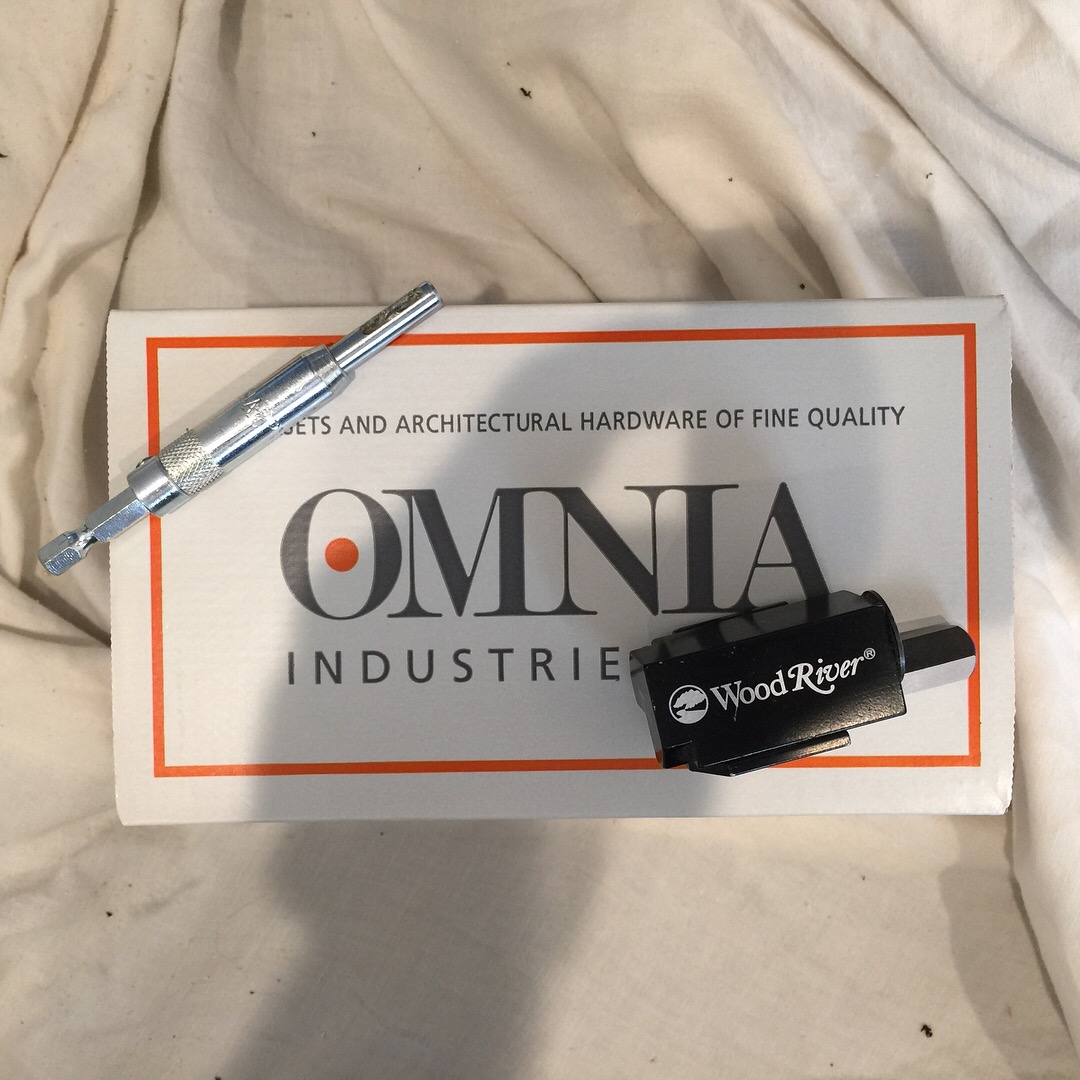 Do You Have Some Doors To Replace Or A Home Remodeling Project?
We hope this information has helped guide you in the process of replacing your interior doors.  Whether it be a stand-alone project, or part of a larger interior home remodel or renovation, Craftsman Contracting is here to help you with your door installation.  We'll treat your project as if it were our very own, ensuring the highest level of quality in everything we do.  Whether you'd like to replace a single door slab, or change out all the door and trim in your home.  We at Craftsman Contracting pride ourselves on the attention to detail and quality of our workmanship that we invest into each and every carpentry project we work on.
A home remodeling project relies on careful planning, excellent communication between client and contractor, precision & accuracy, and the contractors ability to understand and execute the plan without excuses.  At Craftsman Contracting, we believe that is exactly what we have to offer.
If you'd like to schedule a consultation to discuss your carpentry or remodeling project then give us a call (203) 642-3343 or fill out our contact form and we'll get right back to you.