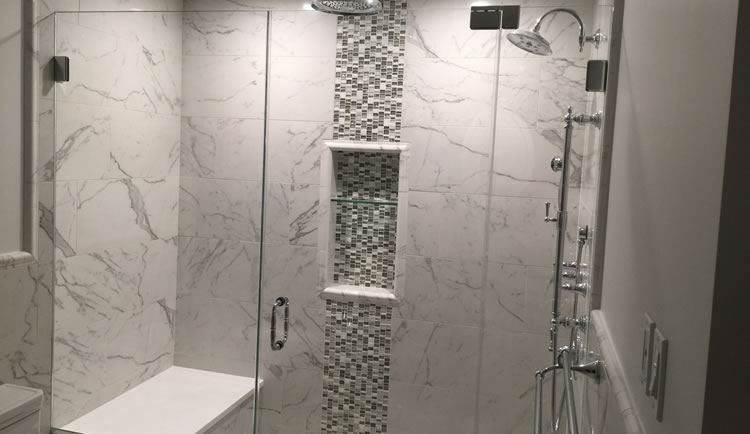 We Design and Build Walk-In Showers Throughout Fairfield County CT
One of the most popular and trending bathroom remodeling projects is the addition of a walk-in shower.  Whether you're converting that dingy old bathtub in your master bathroom to a walk-in shower, hiring a contractor to build a completely custom walk-in shower out of stone or tile, or installing a pre-fabricated walk-in shower from one of many suppliers to save time and money, a walk-in shower is an excellent choice to improve the usability (and safety) of your bathroom.
Craftsman Contracting LLC is a local bathroom remodeling contractor based out of Norwalk CT and serving all of Fairfield County.  One of our specialities is the design and construction or installation of walk-in showers.  Whether you'd like a pre-built unit or you want us to custom design a new walk-in for your specific bathroom space, our goal is transform your bathroom into a more spacious, luxurious, room for you.
Walk-In Shower Construction Fairfield County CT
Custom walk-in shower construction
Pre-fab walk-in shower installations
ADA compliant walk-in showers
Barrier free and curbless walk-in showers
Walk-in shower replacement or reconstruction
Why Build A Walk-In Shower?
Walk-in shower are an impressive addition for any bathroom but they are most popular as a master bathroom upgrade.  They also work very well for smaller bathroom spaces because without a tub in the way, a shower door, or shower curtains, a walk-in shower gives your bathroom a very spacious uncluttered appearance and really cleans up the look.  Many of our clients like the convenience of a walk-in shower and prefer it over filling up a bathtub for a long soak.  If you have a busy lifestyle and don't always have time for a long bath, a walk-in shower is a great option.
What Are The Differences Between Custom or Pre-Fab Walk-in Showers?
With a walk-in shower, water run-off is always an issue.  Many pre-fabricated units will have a very shallow curb designed to prevent water from exiting anywhere but the shower drain.  With custom walk-in shower construction you can have the shower built without any curb (commonly called "barrier free" or "curbless").  Instead of a curb, these walk-ins will have a gently sloping floor (almost unnoticeable) that will direct the water into the drain.  If you have poor mobility, muscle, or joint pains then a curbless walk-in shower is often the best choice for your comfort.
Customizing Your Walk-in Shower
With a custom built walk-in shower the sky is really the limit, actually, your available bathroom space will really help determine what can or cannot be done and the overall shape and size of the shower.  Popular shapes are rectangles and squares, and if your bathroom has enough space, curved walls are also very popular.
Some popular add on features with a walk-in shower are multiple shower heads or spray nozzles that can direct water at all sides of your body from different angles and even different pressures.  Digital shower controllers help control the spray nozzles, pressures, and even the temperature.  If you have mobility challenges, shower benches are a popular add-on and give you a safe place to rest and relax safely.
There is a wide variety of colors, textures, and patterns available if you choose to use tile or stone and you can even include a glass enclosure or glass block to enclose the shower on the sides.  Pre-fabricated units won't offer the same flexibility as a custom built walk-in shower but they do work well for a homeowner with a smaller budget who just wants the practicality of a walk-in shower but without all of the luxury add-ons.
How Much Will It Cost To Build A Walk-In Shower?
This is a really good question, and always at the forefront of our customers minds but it's a difficult question to answer.  To give an accurate price we really need to see your bathroom space, take a few measurements, and listen to what your wants and needs are.  Generally pre-fabricated units are the least expensive, running anywhere from $1000 to $3000 or more for the unit itself and that doesn't include labor for installation, which can be significant depending on the size and shape of your bathroom.
Custom walk-in showers are a much more expensive option as your material cost and labor cost will be significantly higher as everything must be built/installed by hand and there are several steps involved to having a safe, waterproof, shower that will last for many years.  A good ball park for custom walk-in shower construction would be $6000 to $18,000 dollars but again, there are many variables that will affect the cost of your shower.  If you'd like a walk-in shower installed in your home please give us a call (203) 642-3343 and we'll arrange a time for your free consultation.
Craftsman Contracting LLC Builds & Installs Walk-In Showers
The small but dedicated team at Craftsman Contracting LLC pride ourselves on our attention to detail we give to each and every bathroom we work on as if it were our own.  This ensures the highest level of quality and craftsmanship in everything we do.
A professional walk-in shower project needs careful planning, excellent communication, precision & accuracy, and the contractors ability to understand your vision and execute the plan without excuses.
If you'd like to schedule a consultation to discuss building a custom walk-in shower or installing a pre-fabricated walk-in give us a call (203) 642-3343 or fill out our contact form and we'll get right back to you to arrange your FREE consultation.