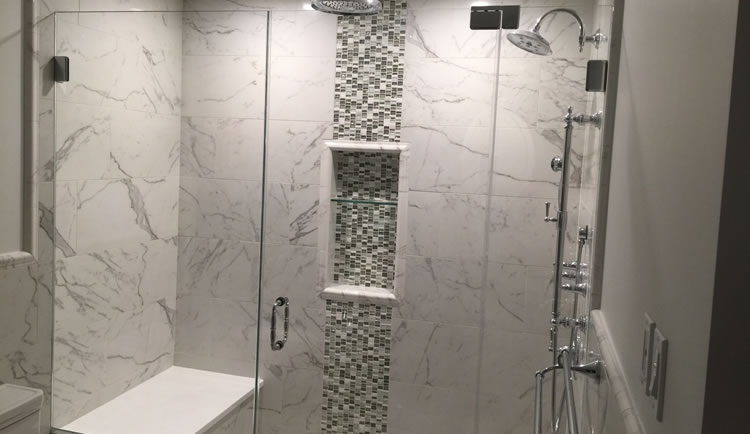 Tub-To-Shower Conversions Fairfield County CT
Do you have an old bathtub in one of your bathrooms that nobody ever uses?  Have you considered converting the old tub into a nice, new, and modern shower?  Tub-to-shower conversions are a popular bathroom remodeling project that won't break the bank and offers excellent value for a homeowner looking for a small but meaningful upgrade to their home.
Craftsman Contracting LLC specializes in tub-to-shower conversions throughout Norwalk, Wilton, New Canaan, and the rest of Fairfield County, CT.  Whether you'd like to install a new custom tile or stone shower or a pre-fab shower insert in place of your old bathtub we'll be able to help you transform your bathroom into a more enjoyable and convenient space for your family.
The Tub-To-Shower Conversion Process:
#1.  We start with our initial consultation.  We'll come to your home, view your existing bathroom and tub, take appropriate measurements of the space and listen to exactly what you'd like accomplish with the conversion.
#2.  We then get to work on your estimate and submit it to you (usually within 48 hours).  If you decide to proceed, we'll get a start scheduled and begin ordering any necessary materials for your project.
#3.  The first step after you've accepted the quote is to remove the old bathtub.  To do this we must remove the old fixtures, any wall surrounds, and the tub itself from your bathroom.
#4.  The new empty space where your tub once sat must have a new shower pan or shower base installed.  (if we're building a custom shower it will be a shower pan).
#5.  Any plumbing upgrades or changes will need to be addressed at this time before we can install a new shower surround and finish off the space.
#6.  Shower walls will go in, along with doors or whatever you've chosen as an enclosure.
#7.  Faucet and accessory installation is the final step, and upon completion your new shower is ready-to-use!
How Long Does It Take To Convert My Tub Into A Shower?
Most tub-to-shower conversions can be completed by our team in 1-3 days if it's a pre-fabricated shower.  If it's a custom shower then most projects will last between 1-2 weeks until completion.  Your bathroom size, the complexity of the project, and your finishing choices will help dictate how long the project will take.
Tub-To-Shower Conversions By Craftsman Contracting LLC
If you'd like to move ahead with a tub-to-shower conversion the small but dedicated team at Craftsman Contracting LLC would be an excellent choice.  Our team prides ourselves on the attention to detail we give to each and every bathroom we work on as if it were our own.  Owner/operator supervision and guidance ensures the highest level of quality and craftsmanship in everything we do.
A professional tub-to-shower conversion project needs careful planning, excellent communication, precision & accuracy, and the contractors ability to understand your vision and execute the plan without excuses.
If you'd like to schedule a consultation to discuss converting your old bathtub into a new shower give us a call (203) 642-3343 or fill out our contact form and we'll get right back to you to arrange your FREE consultation.