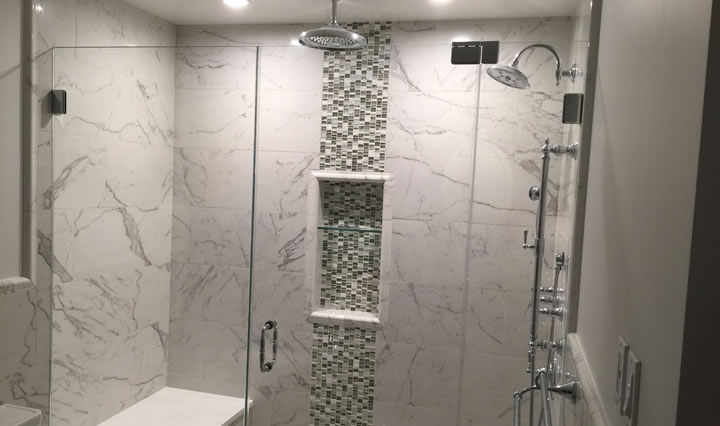 Shower Remodeling Services In Wilton, CT.
We build beautiful and luxurious new showers.
Are you looking to remodel the shower or bathroom in your Wilton, CT home?  Are you ready to transform that boring, dated, shower in your master suite bathroom?  You'd probably learn to love showering in a beautiful new walk-in shower with a digital controller, modern faucets, and a shower bench so you can relax at the end of a long day?  If that sounds like something you would enjoy then we're glad you've found our website.
Craftsman Contracting LLC is a home remodeling contractor serving the Wilton, MA area.  We specialize in remodeling and renovating our clients showers, especially in homes where the current shower is not safe or suitable for the family and in other homes where the shower is just dated and needs to be replaced with something fresher and a little more luxurious. Whether you'd like to have a new tile or stone shower surround, a walk-in shower, or convert an old tub into a shower,  we'll be able to transform your old shower into something you'd expect to see in a magazine or experience in a luxury hotel or spa.  That's what we can build you!
Shower & Bathroom Remodeling Wilton, CT
Curbless shower construction
Walk-in shower construction
Tile or stone shower surrounds
Replacing an existing shower
Adding showers to bathrooms
Converting bathtubs into showers
Glass shower enclosures
Custom tile or stone shower benches
Digital shower controllers
Shower Remodeling and Renovation Ideas For Your Wilton CT Bathroom
If you're current shower is 20 or 30 years old the experience probably leaves something to be desired!  If you've ever stayed in a luxury resort, hotel, or spa, you've probably already experienced a beautiful, spa-like shower and you probably have a few ideas you'd like to see.  Here are a few modern shower remodeling ideas to help you make a decision.
Custom Shaped Showers
You don't have to go with the same old square or rectangular shower anymore.  Now we see showers coming in all shapes and sizes to maximize the available space in our clients bathroom.
Showers can be curved, rectangular, square, and can be custom fit so they tuck into the smallest bathrooms.
Shower Shelves and Seating
With a larger shower it's not uncommon for a homeowner to want to install shelving or even seating.  Shelves in the shower are nice to get rid of the clutter and keep your shampoos and bath products out of the way.   Seating is a very popular option should your walk-in shower have the room. If you like to relax in the shower after a long day at work a nice tiled shower bench is a great way to just sit down and enjoy your showering experience.
Shower Enclosures and Doors
The old days of a shower curtain are over.  Most modern shower remodeling projects do away with the boring curtains and make way for more classy options.  Consider a glass enclosure if you'd like to give your bathroom the illusion of being much bigger than it really is.  Or maybe you want beautiful tile or stone for a shower surround?  In that case glass is the only way to go so your shower can be seen and you can show off the beautiful design and texture.
If you really like the glass look but don't necessarily want others to see inside while you're showering there is always the option of frosted privacy glass!  Frosted glass comes in a variety of different styles and patterns to suit any design tastes.
Digital Shower Controllers
If you've ever messed with the faucet on an older shower to try and get the water temperature just right you'll love all the features of a modern digital shower controller.  With the push of a button you can set the water to a consistent temperature and never fuss with it again.  There are many modern digital shower controllers on the market and depending on your budget they can be really fancy too.  Some of the shower controllers allow you to not only control the temperature but also the shower jet settings on the shower head so you can get that perfect spray pattern, you can set the duration of the shower and some even have water conversation modes as well to keep the energy bills down.
Craftsman Contracting LLC can install a variety of digital shower controllers from the manufacturers such as Kohler, Moen, and Gowe.  We can install a digital shower controller for both high and low pressure water systems.
Modern Shower Heads
Shower heads are a very personal choice and if you have an older shower then you know there is room for improvement in this department!  If you often shower with your partner then there are even dual shower head systems that mean you'll always have the hot water! Shower heads are a great opportunity to add a little style to your shower with so many different finishes available and in many different styles too such as classic styles, modern styles or even antique looking shower heads if you have a heritage home and want to keep that ambience.  Maybe you'd like to have a hand held shower head that can be removed when you need it?  Or maybe you'd like to have a shower head with a built-in massage setting or one that even works with aromatherapy oils.  These are all options too!
LED Shower And Bathroom Lighting Systems
Definitely don't overlook the lighting in your shower.  The right lighting can have a dramatic effect on any shower remodel and the overall look and feel of your bathroom.  Some homeowners choose to have a variety of lighting styles so you can have some bright lighting to help wake you up in the morning, and then you can have some softer mood lighting for those evening showers before bed.
LED light fixtures use a fraction of the power of a standard bulb and many manufacturers make waterproof LED lights and fixtures that are perfect for use in a wet environment like a shower.  There is many different styles of LED lighting from flush mount fixtures to recessed lighting to shower heads that light up and even LED bulbs that you can control the color so you can set the right ambience with dynamic mood lighting.
Why Choose Craftsman Contracting For Your Shower Remodeling Project?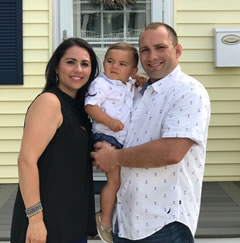 We at Craftsman Contracting pride ourselves on our attention to detail we give to each and every shower we work on as if it were our own.  This ensures the highest level of quality and craftsmanship in everything we do.
A professional shower remodeling project relies on careful planning, excellent communication, precision & accuracy, and the contractors ability to understand your vision and execute the plan without excuses.
If you'd like to schedule a consultation to discuss building that luxurious and relaxing showering experience you've always wanted then give us a call (203) 642-3343 or fill out our contact form and we'll get right back to you.