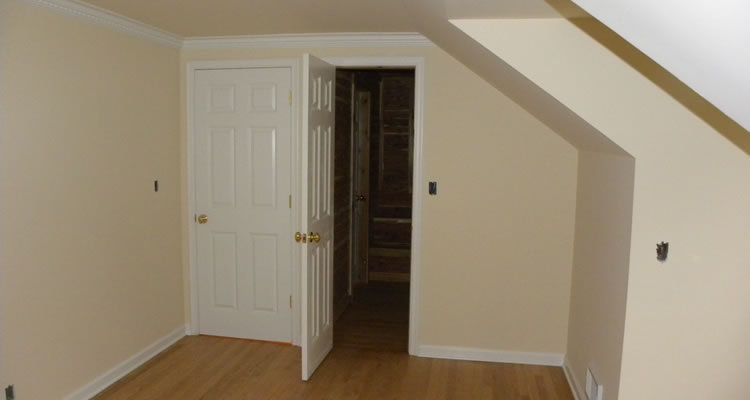 In the top picture, you will see a completed bedroom renovation. In this room, all the old wood paneling and linoleum flooring was removed, as well as all the doors, moldings and electrical. Exterior walls were insulated, new wiring was ran for outlets and lighting, sheetrock was hung, new doors, baseboard, crown molding and window and door trim were installed, and everything was painted. Finally, the new oak hardwood flooring was finished with environmentally friendly water-based polyurethane.
The following picture is a completed deck with aluminum railings, and a little something else beyond the surface.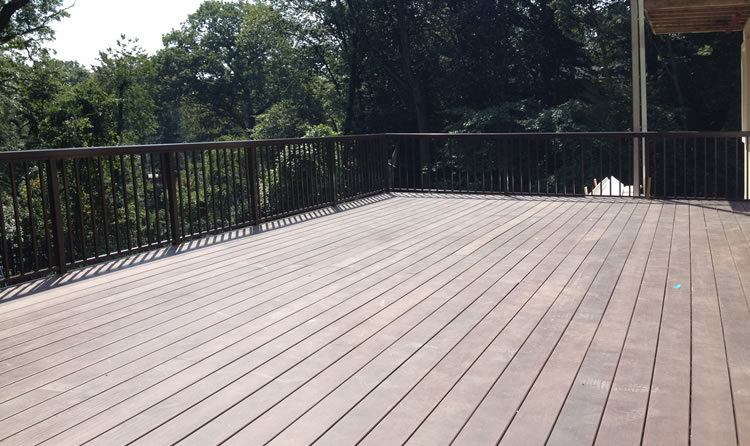 Underneath this beautiful decking, we installed a product from Trex called Rain Escapes. This essentially waterproofs the area below the deck. A series of troughs carries the water that falls between the deck boards into a gutter at the end of the deck, where it is carried away from the house. This allows for the underside of this deck to be finished with recessed lighting and beadboard ceiling, allowing the owners of this outdoor Oasis to entertain on 2 levels!
After the Rain Escapes system was installed and tested, we began installation of this rot resistant decking made from thermally treated ash wood. All trim boards and moldings were made with PVC. Aluminum railings were then installed along the perimeter, completing the sleek, modern design which will require no maintenance. The completed deck can be seen in this next picture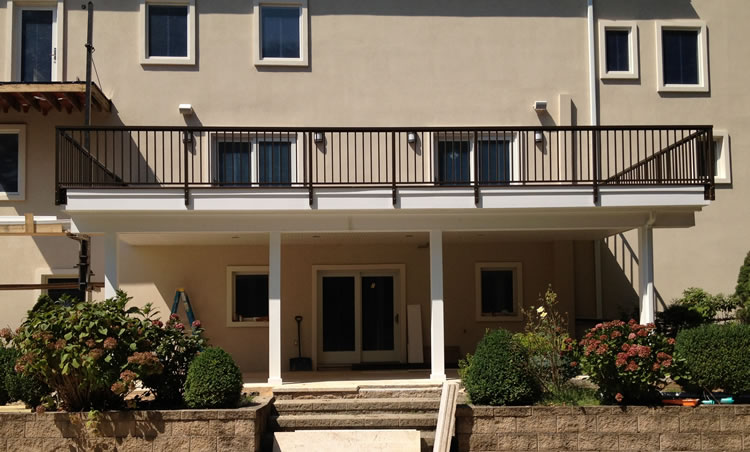 And in the final picture you will see an exterior renovation of a shed dormer.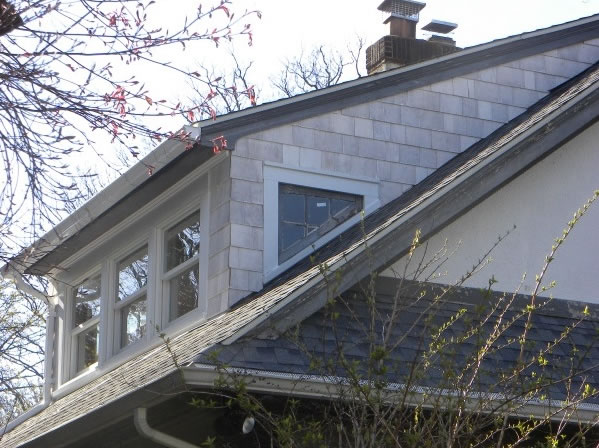 The original cedar shingles were beginning to fall off the house and beyond repair. The three old, leaky windows in the front of the dormer were removed and replaced with new, air-tight Andersen windows. All trim was then capped in aluminum coil. The owner will be able to enjoy decades of use from the exterior of this dormer, with no worries of rotting wood, water leaks or drafts coming from the windows.
Are You Ready To Start Planning Your Custom Carpentry or Remodeling Project?
At Craftsman Contracting, we believe your carpentry project deserves the best, and we're prepared to deliver.  We at Craftsman Contracting pride ourselves on our attention to detail, ensuring the highest level of quality in everything we do when we work on building you a better home.  A professional carpentry project relies on careful planning, good communication, precision & accuracy, and the contractors ability to execute the plan you've all agreed on without excuses.
If you'd like to schedule a consultation to discuss your custom carpentry project please call (203) 642-3343 or fill out our contact form and we'll get right back to you.